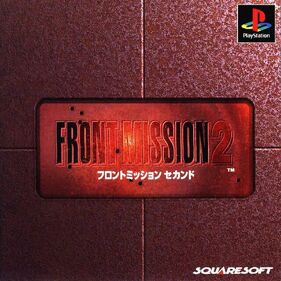 Front Mission 2 is a tactical role-playing game for the Sony PlayStation developed and published by Square and released in Japan. It is the second game in the main Front Mission storyline.
According to the series' public relations manager Koichiro Sakamoto, the game was never released outside of Japan due to the presence of situations and vocabulary which would be considered faux pas in North America.
Front Mission 2's gameplay has many similarities with Front Mission First. This is likely because the game retains the core foundation seen in Front Mission. This does not mean the game is an exact copy of Front Mission. Numerous changes are noticeable in Front Mission 2. First, more weapons now have range as opposed to being limited to merely missile and grenade launchers. Second, terrain (known as Geo) affects conditions such as Accuracy and the ability to successfully counterattack. Another noticeable change is how all weapons now have ammunition, with the exception being Fight-class weapons. The most noticeable changes are the Action Point(AP) and Honor system.
The AP system dictates how much actions can be done with each combatant. Actions such as movement and attacking take a certain amount of AP to use. At the end of a full turn, one Player and Enemy Phase, a certain amount of AP is restored. The AP values, amount and charge, increase as pilots gain levels through clearing missions. These basic fundamentals of the system are present in future installments. The AP system in Front Mission 2, however, has much more additional factors that give it more layers of strategy.
The amount of AP dictates the potency and effectiveness of several factors such as Accuracy and Evasion. Having close to full AP while attacking often results in landing hits while lower amounts lead to missed hits. AP amount is also a factor in successful counters and skill activations, making it more crucial to manage everyone's AP carefully. The Honor system, which evaluates how the enemies and allies respect each combatant, adds even more factors that tie-in with the AP system.
The Honor system's greatest feature is the team effect, where traveling with allies close by grants advantages over enemy forces. Such a situation results in extra AP amount and charge, as well as boosted stats vital for combat. Likewise, surrounding enemies made it easier to destroy them, as their AP and stats are lowered. The same situations apply to enemy forces as to balance the system. Honor is increased by destroying enemies and successfully utilizing the team effect. Battle skills are only gained through usage of the Honor system as well.
When combining the AP and Honor system, Front Mission 2 has an impressive amount of layers involved with strategy. Add the other changes to the system and they result in the most strategy-heavy Front Mission installment to date. This incredible focus on strategy does have its drawbacks however. The learning curve is quite steep and the game is far from being user-friendly in this aspect. The missions, often throwing 20 or more enemies in tough Geo conditions, only prove this as well.
Battles aside, Front Mission 2 is relatively the same as Front Mission. There are town segments where the player can purchase parts at the Shop or fight in the coliseum to gain additional funds. The massive customization involved with wanzer creation has been retained, with even more parts than before. The Network feature is the newest element in Front Mission 2, which is essentially a pseudo-Internet that allows the player to understand more about the world through various websites. This feature is further expanded in Front Mission 3.
Setting and story
Edit
Set in OCU Alordesh (modern-day Bangladesh) during June 2102, Front Mission 2 is the story of Oceania Cooperative Union (OCU) soldier Ash Faruk and officer Lisa Stanley. During one night, Ash and his outfit, the Muddy Otters, are caught off-guard when the Alordesh Army revolts against the OCU. Barely escaping the assault at the Rimian Naval Base, the Muddy Otters are forced to escape from the coup d'état forces. As the Muddy Otters link up with surviving OCU forces, the OCU sends in an expeditionary force to help reclaim control of the nation. Around this time, the OCU Intelligence Agency sends in Lisa Stanley and her unit to analyze the Alordesh Army's movements to help the regular army in their efforts.
Characters
Edit
Front Mission 2 alternates between viewpoints of the main protagonists, Ash Faruk and Lisa Stanley. After a certain period of time, both groups unite under Ash's point of view.
Front Mission 2 was composed by Noriko Matsueda, who also composed the original Front Mission. The Front Mission 2 Original Soundtrack was released by DigiCube on September 21, 1997 on a single 43-track disc.
Ad blocker interference detected!
Wikia is a free-to-use site that makes money from advertising. We have a modified experience for viewers using ad blockers

Wikia is not accessible if you've made further modifications. Remove the custom ad blocker rule(s) and the page will load as expected.