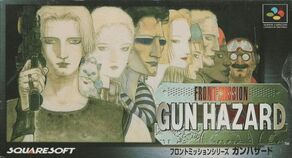 Front Mission Series: Gun Hazard is a side scroll action role-playing video game developed by Omiya Soft and published by Square in 1996 for the Super Famicom. It is a spinoff of the Front Mission series and not apart of the main timeline.
It is the second work of the Front Mission series, and depicts the future which traced a history different only from Masashi. The game style has been changed from turn-based tactical role-playing video game of the previous work to side scroll action role-playing video game, but it has contacts with elements such as Wanzer (walking weapon). Europe and Africa desert and jungle, Russia, South America and unique MAP, we can change various weapons and change the location, select maps once again, can also sing out due to experience value and money earnings (exceptions) That degree of freedom is high.
It is independent from NCS (Extreme) Omiya Soft has been producing, has become the content of the game following "Assault suit Valken" developed by the same staff. It also supports play for two players.
A coup broke out in the Republic of Bergen in 2064 AD. At that time, Albert Grabner was in charge of escort in colleagues Leros and the military port to make President Moss Orwen escape from abroad. Just before departure, the coup leader, Colonel Ark Hellbrand and his ledger assault the martial port using a cruise missile. Albert witnessed the death of his best friend Leros, but he rejected Ark with President in order to fulfill his duty as a soldier, aiming for a base that has not fallen into Ark's hand yet. However, his enthusiasm is forced to be trapped and Albert is captured and imprisoned with President. Once you met Brenda Lockheart of the wanzer carrier crew who fought as an enemy in prison, both escaped from the Republic after escaping the Republic, then to fight the enemies of Leros, and to fight as a mercenary to get rid of the stigma of President kidnapping and regain the homeland To make a decision. Then I meet many colleagues in the conflict, civil war, terrorist attacks and many other countries around the world. However, it was also to know some hidden secrets ....
Gameplay
Edit
This work introduces not only the level system but also skill system to the aircraft and weapons (described later).
There are various productions by the stage, the president occupies the terrorist who rides on the enemy's unmanned assault ship, rushes over the enemy's blockade area, driving the Wanzer carrier trailer (nadent trailer) and hitting the enemy aircraft There are stages such as rescuing workers from undersea oil fields.
Below are the main features and systems incorporated in this work.
Differences from other series works
Edit
In other works mainly take turn strategy strategy, but this work is an action game. For that reason the change in the boarding plane is not for each part but for each aircraft.
Battle System A new element which can be seen also in the later series was seen in this work.
Proficiency A system that enhances performance by mastering aircraft and weapons. As skill increases, weapons increase the maximum remaining number and power, Vernier improves jetting time and flight distance, and the aircraft improves durability. To raise the skill level, weapons and verniers must be used repeatedly, the aircraft must be damaged, and it takes time and effort to be a strong weapon or aircraft. The skill level rises to 120%, and when it reaches 120%, the performance becomes higher than the one with the skill level of 0%, which is one rank higher.
Wanzer getting on and off system A system where the hero goes down the plane and acts. There is a passage etc. which forced the story to become in this state or the stage can move only by the living body due to the stage. Flight by Vernier (Jet Pack) (Unlike when you board Wanzer, you can always fly without the time limit), Squatting (It does not receive damage except under certain conditions such as contact with the enemy), Elevating by wall attachment etc. unique Action is possible. In addition, the above skill level is set also for the weapon for pilot, and especially when hand grenade is strengthened it will be able to be thrown two at a time, so it is very powerful, on the other hand, the blast (crouching makes damage invalidation There is also a risk that you will be damaged by possible). Since it is possible to advance the game in the pilot state in almost all missions, it is possible to challenge the play including fighting and emotion such as clearing the game. Also, due to circumstances in the state of living and Wanzer, messages in the game may change greatly, and live play is also recommended by developers. It is impossible to sortie if it is not equipped with a pilot equipped protective gun handgun whether to prevent so-called "clogging" or not with Wanzer boarding. In addition, "3rd" further develops this system (there are differences from Wanzer getting on and off system in this work, please see the relevant page Front Mission 3 # Battle system for details).
Warrior machine A system that sorts with both fellow characters. It is possible to make one machine appear for each stage, and it can be operated with two player controller. By each character "support fire", "aircraft of the same type as the main character" "repair support" "expert of blasting" "small high mobility type" "defense specialized type" "aerial battle type" "fire specialized type" Map display responsibility "is given to the character of the machine performance. Depending on a specific stage, there may be cases where no event occurs unless a predetermined group is brought up, or sometimes a group returns home as soon as the fellows are not able to do so. Also, as with the main character level system and skill level are established, more powerful use and strengthening of the aircraft becomes possible. However, the armed of warplanes can not be changed.
Mechanic's
Edit
Numerous aircraft that include enemy ally will appear, but the manufacturers of Wanzer are not set in detail as compared with other series.
Harby G - Model number: FN - 8G. Height: 4.6 m. Total length: 3.8 m. Full width: 3.5 m. Overall Weight: 3.6. Country of origin: Bergen Republic. Fixed armed: Swing arm 18.8 t Press punch. Allowable number of special weapons: 1. Atlas A military diversion of a bipedal walking type general purpose machine tool used at the time of construction. "HARBY" indicates the nickname of the developer, "G" indicates "GUNNER", that is, military use. Because the former is a work machine, patrites remain on the top, left arm remains in the working arm. Still, the functions such as vernier unit and roller dash can be used, with minimum specifications. The cockpit is exposed, it is not surrounded by bulletproof glass like Tendas, it is just surrounded by a safety bar. Performance is low because of the initial aircraft, especially there is only one special weapon loading frame. However, it is the smallest in the aircraft body for the main character, and there is also a point that it is not necessary to get off the aircraft even in a narrow place where other aircraft can not pass.
Stinger - Model number: SW-46S. Height: 5.4 m. Total length: 4.2 m. Full width: 3.8 m. Overall Weight: 5.5. Country of origin: united states of america. Fixed armed: Swing arm 20.0 t Press punch. Allowable number of special weapons: 2. Military Wanzer developed in the United States. The model is "light armored mobile combat cavalry." Unlike HarbyG, since it is manufactured for military use from the beginning, its performance is greatly different. In appearance, it is characterized by a bigger body and a jet pack equipped on the back, making it more like a humanoid robot. Performance boasts nearly twice the performance of HarbyG. The number of special weapon loading frames has increased to two.
Silver Fang - Model number: SW-54S. Height: 6.0 m. Total length: 4.4 m. Full width: 4.0 m. Overall Weight: 6.4. Country of origin: united states of america. Fixed armed: Swing arm 22.5 t Press punch. Allowable number of special weapons: 3. Military Wanzer developed in the United States. The model is "armored mobile combat cavalry." The manipulator is installed in various parts of the aircraft, and the exercise performance is greatly improved. Like other high-end aircraft, I get the impression that Stinger is stretched vertically as it is. In terms of performance, Stinger was improved as it was, the durability was increased twice, and the special weapon loading frame increased to three.
Knight Master - Model number: SW-82K. Height: 6.3 m. Total length: 4.4 m. Full width: 4.0 m. Overall Weight: 6.7. Country of origin: united states of america. Fixed armed: Swing arm 25.0 t Press punch. Allowable number of special weapons: 4. The state-of-the-art machine of Wanzer made in the United States. Like the Silver Fang, the model is "armored mobile combat cavalry", it turns out that it is the successor or evolved type of Silver Fang. It was lightweight compared with the appearance by the reinforced ceramic which is the armor material, succeeded in improving maneuverability while maintaining defensive power. Its performance outperforms old-fashioned Wanzer. If the Dragoon described below can not be obtained, it is the aircraft that the player finally gets.
Dragoon - Model number: X-D. Height: 6.5 m. Total length: 4.6 m. Full width: 4.4 m. Overall Weight: 8.0. Country of origin: Society. Fixed armed: Swing arm 30.0 t Press punch. Allowable number of special weapons: 6. Aircraft that Society was secretly developing as Ultimate Wanzer. If it meets the condition it will be available for purchase at the Esparte shop. Although it is a fairly large Wanzer, it has the disadvantage of poor turning at the closed place, but boasts the performance which is aligned with Knght Master which was completely strengthened even in the initial state though it is short. There are also 6 special weapon loading frames, and even if equipped with units of vernier, shield, dash, we can afford. Durability is the strongest Wanzer that easily exceeds 9999 if level up.
Terminology
Edit
Atlas - A project which was jointly constructed as a worldwide project for construction projects as a lesson of war related to resources and energy globally and symbol of world peace. It refers to an orbital elevator for obtaining space resources and solar energy. However, due to the discovery of new energy and the relative decrease in economic value, the construction was interrupted, and ultimately the private organization completed, but it has not been operated. The organization "Society" that exists during the game is involved in construction, and the attack system to the ground which was hidden when something happens, works, and it is infinitely said to be energy, powerful anti-aircraft cannon, guard against mobile weapons It was a fortified fortress. It is the last battlefield in the game scenario.
Kernel Light Association - A mercenary organization belonging to a soldier who lost the place to return for various reasons. Mercenaries are dispatched to conflict areas and others to gain profits. Although the wanted Albert belongs, it will play an important role even in the final stage.
Society - It is a secret society that dominates the world of this work from behind and is complicit in the intensification of conflicts around the world in accordance with the idea of president Henry Sherwood's "war is the essence of human beings". It is the mastermind of a series of incidents and will be hostile to Albert at various battlefields.
Wanzer - Unlike Wanzer in Masashi, we can not reassemble parts of the fuselage (in the sense that there is no follow up on the game system, it is unclear whether it is on the setting). Also, laser weapons for Wanzer and boosters that can continue to fly have been put into practical use, and Wanzer for ground is also underwater in spite of limitation. (From the viewpoint of structure, it is possible to underwater without problem even with "Harby G" which has no air tightness at all) A small machine such as Harby G mentioned above and a wagtail (Wanzer dedicated to enemies) that transforms into a fighter aircraft are put into practical use There. Performance is enhanced by level up and additional parts. However, only Albert's Wanzer can add additional parts.
Ad blocker interference detected!
Wikia is a free-to-use site that makes money from advertising. We have a modified experience for viewers using ad blockers

Wikia is not accessible if you've made further modifications. Remove the custom ad blocker rule(s) and the page will load as expected.