Age: 32
Height: 5' 9"
Weight: 176 lbs.
Nationality: People's Republic of Da Han Zhong (DHZ)
Occupation: Lieutenant of DHZ Intelligence
Specialities: Rifle

Profile:
A mysterious agent working for the DHZ, Liu is the first product of the secret Real Numbers project headed by Bal Gorbovsky. He also came to Japan after hearing about the accident at JDF Yokosuka Base. Fiercely loyal to Bal, who is also Ravnui's ambassador to the DHZ, he seems to have a hidden agenda. He is an enemy character in Emma's story but a playable one in Alisa's scenario, and helps Kazuki, Ryogo and Alisa to escape from Japan.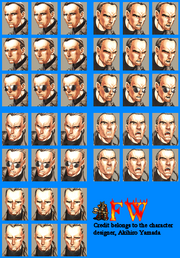 Ad blocker interference detected!
Wikia is a free-to-use site that makes money from advertising. We have a modified experience for viewers using ad blockers

Wikia is not accessible if you've made further modifications. Remove the custom ad blocker rule(s) and the page will load as expected.