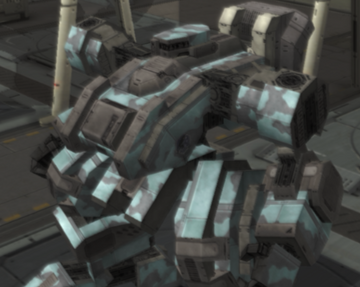 The Numsekar is a wanzer model that has appeared in Front Mission 5. It is produced by the Diable Avionics of U.S.N. America.
Numsekar and its variants are very agile and mobile. Backed by its strong armour, they can take heavy damage before going down. The variant Enforcer also has anti-shock armour, thus lessening the damage it can receive in close-range combat, which mostly involves shock-based weapons such as knuckles and shotguns. These capacities gave the model extraordinary efficiency in close-range combat and therefore, it was quite extensively deployed by the U.S.N. army as melee and assault units. However, its main drawback is a very low output and is thus usually seen equipped with turbo backpacks.
Deployments
Edit
U.S.N. Marine, primarily as assaults and strikers (Front Mission 5)
Numsekar (Front Mission 5)
Enforcer (Front Mission 5)
Mungoss (Front Mission 5)
Mungoss G (Front Mission 5)
Known Pilots
Edit
Ad blocker interference detected!
Wikia is a free-to-use site that makes money from advertising. We have a modified experience for viewers using ad blockers

Wikia is not accessible if you've made further modifications. Remove the custom ad blocker rule(s) and the page will load as expected.