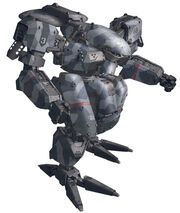 The Tatou (French: Tatou, Armadillo) is a wanzer model that appears in Front Mission 2, Front Mission 4, Front Mission Online and Front Mission Evolved. It is produced by the Taureau Corp. of E.C. France.
In general, Tatou and its variants are shown to be very agile, having superior mobility and evasion. Tatou was seen deployed by the Revolutionary Army of Alordesh as melee units and used by the Durandal as Recon units.
Strangely, in its first appearance, Tatou had hover leg, which is later changed to standard two-leg in Front Mission 4. They may be branch series of the same wanzer model, although their relationship has not yet been explicitly stated.
Deployments
Edit
O.C.U. Huffman, primarily as recons (Front Mission Online)
Tatou 2 (Front Mission 4)
Tatou C (Front Mission 2)
Tatou D (Front Mission 2)
Tatou X (Front Mission Online)
Tatou XX (Front Mission Online)
Known Pilots
Edit
Ad blocker interference detected!
Wikia is a free-to-use site that makes money from advertising. We have a modified experience for viewers using ad blockers

Wikia is not accessible if you've made further modifications. Remove the custom ad blocker rule(s) and the page will load as expected.