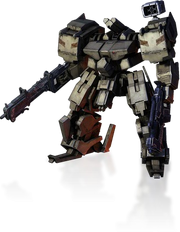 The Vyzov (Russian: Вызов, Challenge) is a wanzer model produced by Demitri Corp. of the Republic of Zaftra. It has appeared in Front Mission 4, Front Mission Online, Front Mission 5: Scar of War and Front Mission Evolved. They served mainly as sniper wanzers, typically equipped with rifles or bazookas.
Like all sniper wanzers, Vyzov has high accuracy, but it also has a higher degree of evasion, mobility, and stronger armour compared to most other sniper models. They were widely used by the Zaftran Army during the attacks on German and U.S.N. troops, as shown in Front Mission 4.
Deployments
Edit
Vyzov (Front Mission 4, 5, Online, Evolved)
Vyzov II (Front Mission 4)
Vyzov III (Front Mission 4)
Vyzov III Rog (Front Mission 4)
Vyzov IV Rog (Front Mission 4)
Known Pilots
Edit
Vyzov types have always been used by snipers, with the on and only exception being Maksim Troadiev Vavilov, equipping his Vyzov unit with melee weapons and EMP weapons.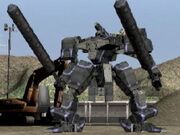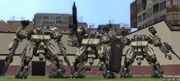 Ad blocker interference detected!
Wikia is a free-to-use site that makes money from advertising. We have a modified experience for viewers using ad blockers

Wikia is not accessible if you've made further modifications. Remove the custom ad blocker rule(s) and the page will load as expected.