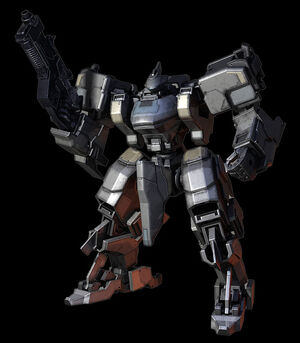 The Zephyr is a Wanzer model that appeared in Front Mission Evolved. It is produced by the Diable Avionics of the U.S.N. North America.
Zephyr is primarily characterized by decent output and mobility, and thus seems likely to be deployed as assault or sniper units, as suggested by what is seen in game. It was said that the Zephyr model is designed to facilitate the use of the E.D.G.E. System of the Diable Avionics. As of 2170s, it is still at the state of a prototype.
The Zephyr was piloted by Dylan Ramsey, who test the Wanzer and later he used as his personal Wanzer in the war until it is destroyed by S.C.I.O.N. while protecting Adela Seawell.
Deployments
Edit
Known Pilots
Edit
Ad blocker interference detected!
Wikia is a free-to-use site that makes money from advertising. We have a modified experience for viewers using ad blockers

Wikia is not accessible if you've made further modifications. Remove the custom ad blocker rule(s) and the page will load as expected.